Today is not only David Bowie's 69th birthday, but is also the release date of his twenty-sixth album, the experimental Blackstar (stylised merely as ★).
It's often said that Bowie has lived many different lives spanning almost a dozen different personas. The stranger truth is that, impossibly, it was one person all along. While whole books have been dedicated to the delicate strangeness of the former Davey Jones, let's take a brief look at some of the more "out there" moments in The Thin White Duke's career.
"The Laughing Gnome" (1967)
As only the fifth song that he released under the nom de plume "David Bowie," "The Laughing Gnome" would already be a historical anecdote by proxy. But as an insane novelty song that surely got a fair amount of play on Dr. Demento's radio show, it's in a league of its own. The song details Bowie's encounter with the titular gnome, who by song's end lives in Bowie's chimney with his brother Fred. You'll be left asking what's going on before even 20 seconds have passed. ♫ And we've only just begun…♫
Bowie names his son Zowie (1971)
At this point, Duncan Jones is well-established as a promising director who struck gold with the fantastic Moon in 2008, and will probably strike literal gold later this year with World of Warcraft. Before all of that, though, he was Zowie Bowie, David's first child with his first wife, Angela.
Zowie isn't on the level of fellow rock star names like Moon Unit Zappa, but remember that 1971 is included in a run of years which Bowie has since confessed have disappeared from his memories due to intense cocaine use.
Bowie debuts Young Americans…for a group of 16 year-olds (1974)
Bowie's switch into "blue-eyed soul" mode famously found him recording at Philadelphia's Sigma Sound Studios where dozens of soul classics had been cooked up previously. At this point, Bowie's fans were rabid and hoping for any glimpse that they could get of their deranged hero. Dubbed the "Sigma Kids," this group of teenagers camped outside of the studio hoping for something, and what they got was more than they could have imagined.
Bowie invited the kids inside for a listening party for the album, which at that point had been unheard by anyone outside the studio, including his label. To read more about the details surrounding the heartwarming/insane encounter, read Philly Weekly's 2002 piece on the subject.
Bowie appears on Cher's eponymous variety show (1975)
While not all that strange at the time, this is a musical performance that has only appeared weirder with age. Variety shows and medleys were in full bloom in '75 (Stars on 45 anyone?) and this might be the best of the bunch. Filmed in what appears to be a cavernous sound stage, Cher and Bowie dance their way through songs from Young Americans, as well as curios like "Day Tripper," "Blue Moon" and "Da Doo Ron Ron." As with most of the entries on this list, the last question you should be asking is, "Why?"
Bowie duets with Bing Crosby on a Christmas special (1977)
This might be one of Bowie's most famous "weird" moments. Collaborating on a bizarre "new school vs. old school" duet of "Little Drummer Boy" with parts of a response song, "Peace on Earth" written just for the occasion, Bowie later described the event as part of an attempt to "normalize" his career. It did anything but.
Bowie stars in a stage version of The Elephant Man (1980)
Even The Thin White Duke couldn't resist The Great White Way. Up to this point, Bowie had starred in The Man Who Fell to Earth four years earlier, and was still a few years away from the tour de force Labyrinth. Obviously, theater is an entirely different animal, but Bowie pulled it off for the entire three-month run. Unfortunately, no full recording exists of any of the shows, but thankfully some intrepid YouTubers have steadily been uploading bits of footage over the years.
Bowie collaborates with Mick Jagger for a cover of "Dancing in the Street" (1985)
I believe this one speaks for itself.
Bowie forms Tin Machine (1989)
After 20 years in spotlight, it wasn't wrong of Bowie to want to recede into the shadows for a while…it was simply the way he did it; forming industrial hard rock band Tin Machine in 1989 with the idea that he would merely be a band member and not, you know, David Bowie. The band lasted long enough for two self-titled albums and an ill-fated live album. Afterward, Bowie credited his time in the band for revitalizing his drive toward making music, so I guess it was worth it?
Bowie gets hit in the eye with a lollipop during a live show (2004)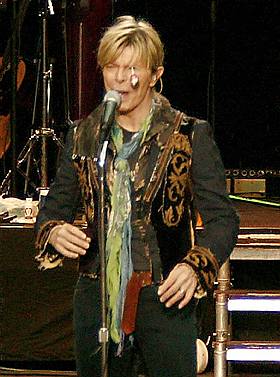 While this one is technically not Bowie's fault, the picture above is fascinating regardless.
Bowie voices Lord Royal Highness in "Spongebob's Atlantis Squarepantis" (2007)
Since 1999, Spongebob Squarepants has managaed to pull in disparate musical guest stars like Ween, Gene Simmons and Pantera. However, for the show's TV movie special in 2007, Nickelodeon got David Bowie to voice Lord Royal Highness, the king of Atlantis.
Bowie seemed thrilled with his casting, writing on his blog at the time: "It's happened. At last. I've hit the Holy Grail of animation gigs. Yesterday I got to be a character on … tan-tara … SpongeBob SquarePants. Oh Yeah!!"
Bowie appears on Scarlett Johansson's Tom Waits tribute album Anywhere I Lay My Head (2008)
Though no one asked her to, ScarJo's first musical output was a cover of Tom Waits songs. She enlisted collaborators in bands like TV on the Radio and Yeah Yeah Yeahs, which makes sense, but for reasons I can't imagine, Bowie showed up as well. Appearing on "Fannin Street" and "Falling Down," I can only assume that he owed a favor or lost a bet.
Bowie releases the music video for "Blackstar" (2015)
Finally, we reach the present, and arguably one of Bowie's weirdest pieces of music ever. The song alone, with its distinct chapters, glitching drums and Bowie's otherworldly old man voice is a stunner, but the video takes it up several notches. Featuring a skeleton in a spacesuit, jittering kids in an attic and so much more, the video (and song) really starts around the five-minute mark with the slightly-terrifying "I'm a blackstar" refrain. Taking everything he's ever done and throwing it in a blender, "Blackstar" might be the most engrossing thing he's ever done. And wouldn't you know it, it's so damn weird.
Purchase ★ wherever fine music is sold and also check out our interview with the man himself from December 2003 here.